Q3 2020 Wood Supply Chain Market Intelligence Report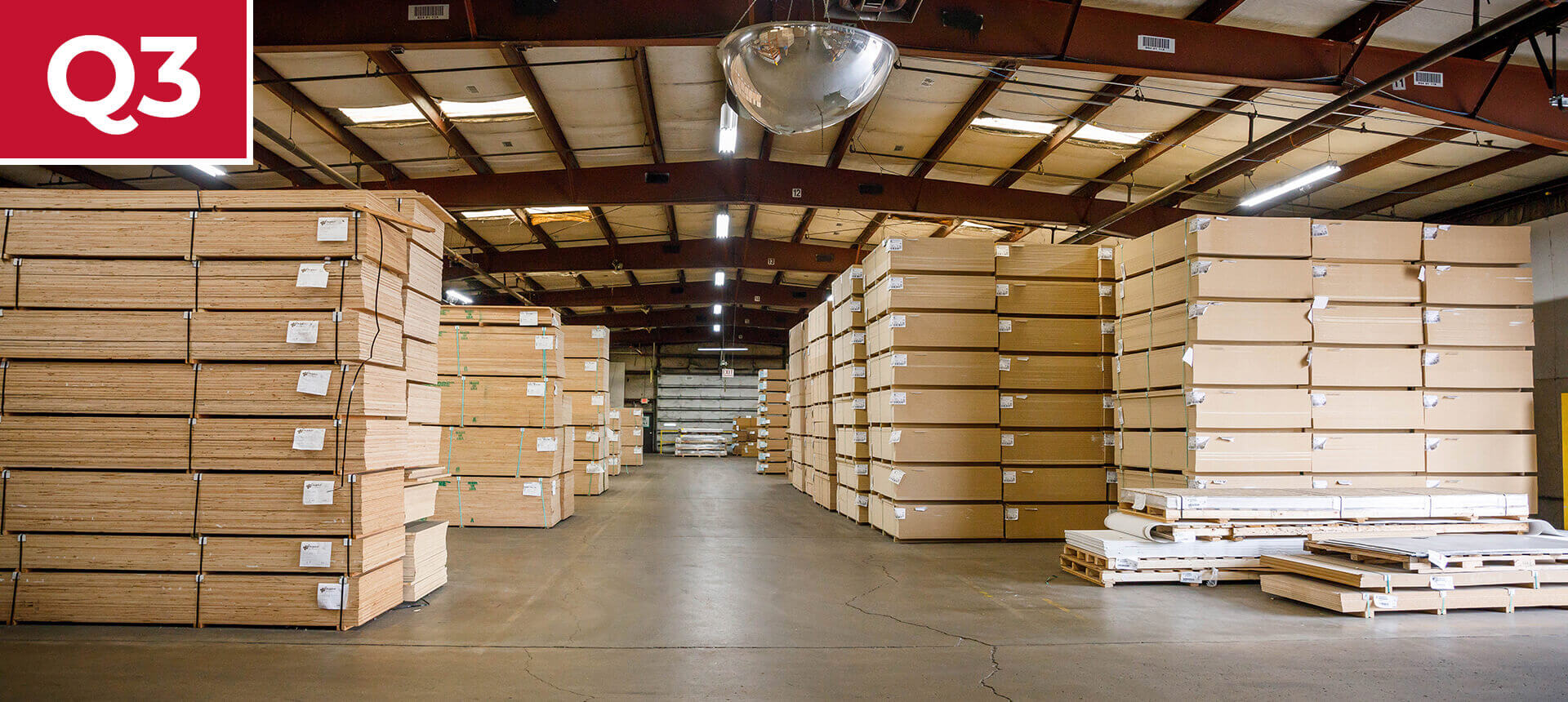 Economic Recovery
While various economic indicators have rebounded in June and July at a greater than expected rate, we expect high unemployment rates and a potential surge of COVID-19 cases in the fall could slow the recovery path in Q4 of 2020.
Consumer Confidence has declined in August for the second consecutive month with consumers stating that both business and employment conditions have deteriorated over the past months. Dec 2020 monthly economic output will likely be 4% – 6% below the level seen in January 2020. Consumers were also more pessimistic about the short-term outlook for the economy.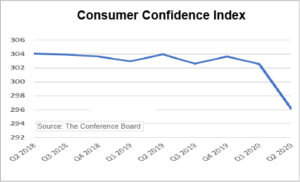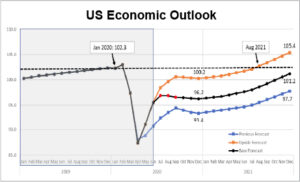 Used and new RV demand is expected to remain strong through 2021
RV Industry Performance
RV rental platform Outdoorsy has experienced a sharp increase in business. In June, Outdoorsy had around 40,000 bookings including 93% first-timers. RVShare.com, a similar platform, is up 1,650% YTD.
A new survey conducted by Wells Fargo Commercial Distribution Finance shows that 64% of participating RV dealers (141 total) reported sales that are higher YTD, including 38% with sales up more than 15%.
May thru June, shipment of new towable units increased from -29% to +13% YoY while shipment of motorhome units increased from -34% to -10% YoY.
New RV registrations were 68K for the two most recent months. (June and July of 2020) Both these months were 20% higher than that highest volume month in the prior 2 years.
If near term consumer confidence improves & COVID cases remain contained thru the fall, used and new RV demand is expected to remain strong through 2021.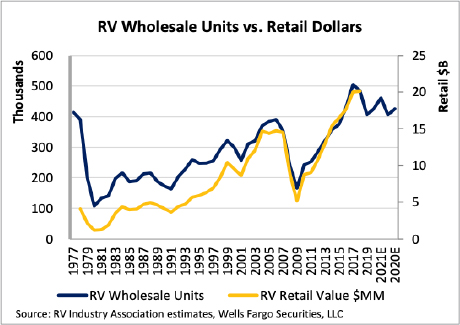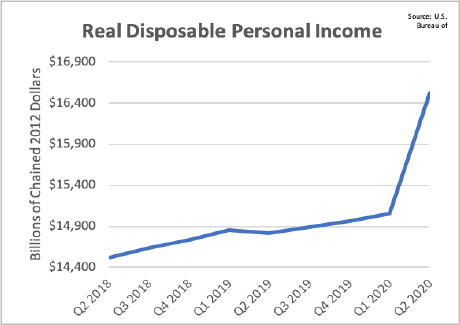 Wood Market Analysis
Overall demand for wood was expected to fall because of the pandemic, but demand didn't go away — it was just "delayed". Demand is up 10% to 20% and lumber futures prices are up nearly 132% YTD in September.  Lumber futures just hit the highest price on record.
Imported Plywood (Meranti)
Key ocean container routes have been impacted by the COVID shutdown with capacity cuts of up to 30%. Carriers have filed for a General Rate Increase (GRI) which may impact to Q3 and Q4 Meranti prices.
Current prices continue to be below the 10-year average and the US has the lowest mill prices for high grade meranti plywood in the world.  Supply has begun to tighten and some challenges with product availability may happen in 2021.  RWC projects Meranti prices will begin to climb in Q4 2020 with an increase of 7% – 8% through the end of 2021.
Domestic Plywood
The domestic plywood market has been highly volatile with prices increasing 94% compared to Q1 2020. Contraction of the supply chain combined with higher than expected demand has created material shortage. Plywood that has been produced by 34 plants in southern Brazil experienced massive failure rates during testing by the American Plywood Association (APA) Revocation of these mills certification is in progress and will create further supply constrictions.  We anticipate prices for domestic plywood will continue to rise significantly well into 2021.