Q2 2020 Wood Supply Chain Market Intelligence Report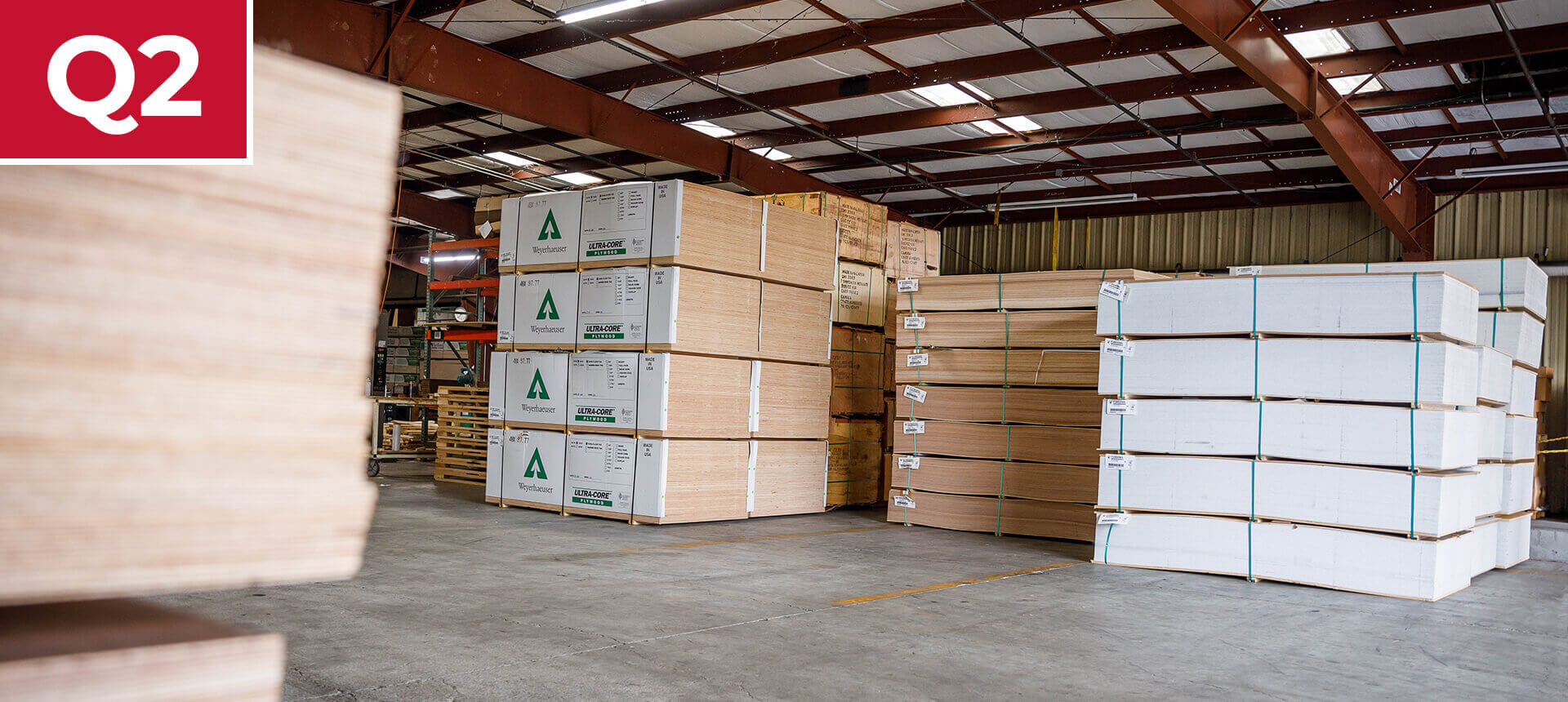 RV Distribution
Between May and June, shipment of towable units increased from -29% to +13% YoY while shipment of motorhome units increased from -34% to -10% YoY. Outperformance by towables isn't surprising given the increase in first-time buyers who favor less-expensive towable RVs.
RV rental platform Outdoorsy has experienced a sharp recovery in business. In June, Outdoorsy had around 40,000 bookings including 93% first-timers. RVShare.com, a similar platform, is up 1,650% YTD.
A new survey conducted by Wells Fargo Commercial Distribution Finance (CDF) in conjunction with RV Business shows that 64% of participating RV dealers (141 total) reported sales that are higher YTD, including 38% with sales up more than 15%.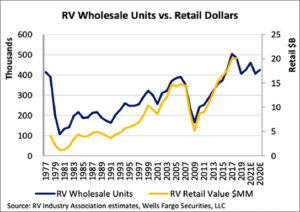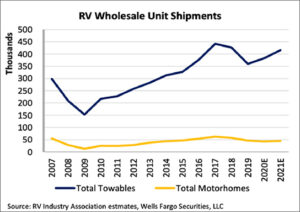 Plywood Supply
Short-Term Impacts
Recent ocean freight increases will increase landed Meranti prices in Q4 2020. Ocean freight increases are being driven by three points:
Below-normal ocean vessel capacity
Re-opening of North American markets
Importers trying to beat tariff exclusions set to expire Aug. 7 and Sept. 1
Long-Term Impacts
International shipment containers are in high demand, driving shipping prices higher.
With current Meranti prices at 13% below 10-year average, concession owners have little incentive to  harvest Meranti logs.
US domestic plywood prices are increasing.
Due to high COVID-19 measures, Brazilian wood shipments at risk for higher decreases.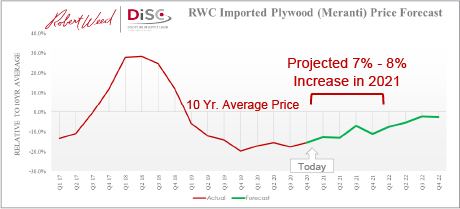 Economic Environment
States accounting for nearly three-quarters of the nation's GDP have either stopped their reopenings or reversed themselves. Texas, Florida and California were experiencing a modest decline in mobility when fresh outbreaks first reemerged, but mobility in those states now seems to be flat-lining. This contrasts with continued improvement in New York, which by comparison has seen muted growth in new COVID cases for several months now.
Nervous consumers have tightened spending on travel, recreation, and other services. Google mobility data show travel to retail and recreational destinations has gone nowhere in recent weeks in states suffering the most new COVID-19 infections.
Passage of the Great American Outdoors Act by Senate and Congress. The two-part Act is aimed at stimulating the outdoor recreation industry. One bill sets aside $9.5 billion to address the estimated $12 billion maintenance backlog at national parks. The other bill permanently supports the Land and Water Conservation Fund, which uses offshore fossil fuel revenue to protect natural areas.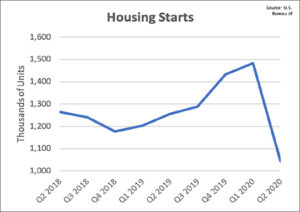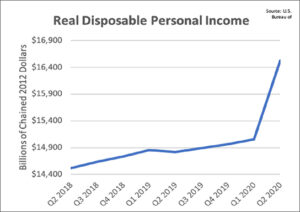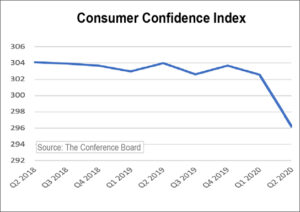 Industry-wide News
The RV Industry Association (RVIA) and the RV Dealers Association (RVDA) have developed a new RV Model Franchise Law to promote cooperation between RV dealers and RV manufacturers and to enact state laws that benefit RV consumers. This new model law is intended to serve as a framework upon which future RV specific franchise laws can be enacted.
Recreational Vehicle Industry Association (RVIA) board of directors agreed a "best practice" regarding model-year changeover would be for "RV manufacturers to make their annual model year and major product design changes between July 1 to August 31". This would improve the RV buying experience by alleviating a common source of confusion that consumers currently experience when purchasing RVs.
The Florida RV Trade Association State Convention event was canceled given ongoing COVID concerns. The 2020 Elkhart Open House has also been canceled.
In these uncertain times we want you to know that Robert Weed Corporation is here and ready to support your organization. We've already responded to the COVID-19 threat by implementing aggressive protocols to protect both employees and customers. These protocols have allowed our operations to continue uninterrupted.