Our Roadmap to the Future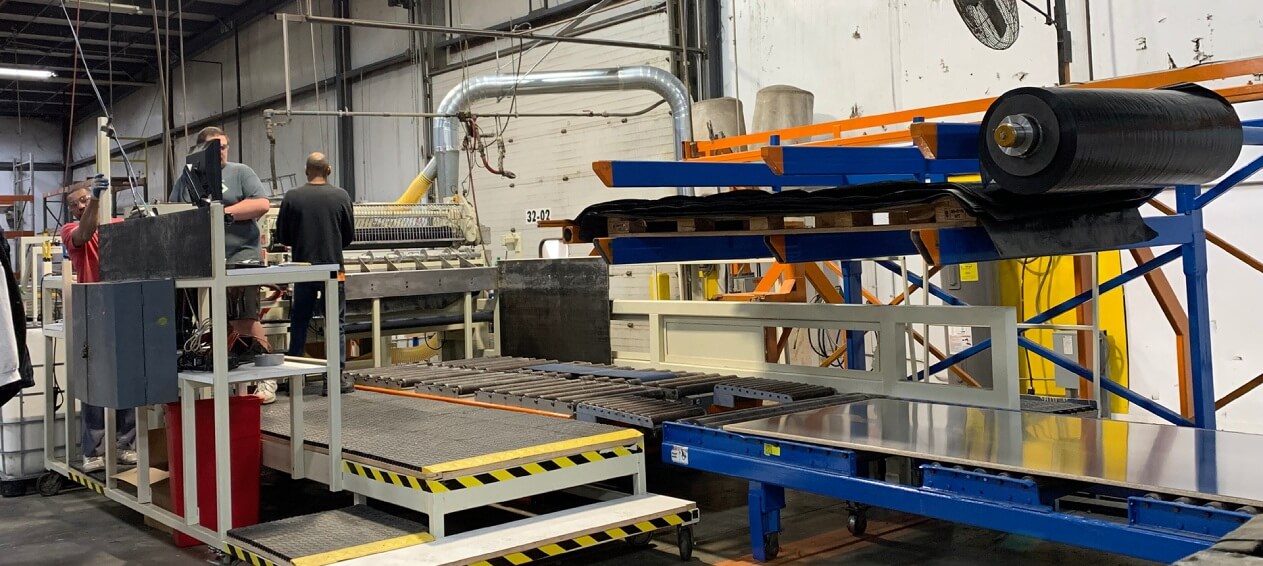 Smart businesses use continuous improvement efforts to re-evaluate operations, processes, and more to ensure that things are optimized and running as efficiently as possible. Robert Weed uses 5S methodologies and recently completed a 5S continuous improvement project for our cold press machine.
5S is a Lean methodology used in continuous improvement that evaluates a process using the five pillars, sort, set in order, shine, standardize, and sustain, to organize and maintain efficiency and productivity.
Cold press lamination is where substrate and overlay are pressed together with adhesive and held under a hydraulic pressure for 12-24 hours. Our cold press machine sits in Building 32 and has for the past 15 years.
And so have all the drips of adhesive, dust build-up, and overlay remnants. After our 5S project, the machine has been cleaned and painted and items repaired or replaced as needed. We're enjoying the benefits of this 5S project: reduced waste and greater efficiency.
This cold press project is just one of the continuous improvement efforts Robert Weed performs to maintain effectiveness and efficiencies for our customers. It's also an excellent example of the most recent step in our journey.
---
Our Roadmap to the Future
The most recent step in our journey is our three-year strategic plan, defined by Robert Weed's Leadership Team in mid-2020. The team evaluated the business, our potential, and our goals for the future. The Vision, Mission, Values was updated to better align with where we're headed. The strategic plan encompasses four major initiatives which will serve as the roadmap for guiding Robert Weed's efforts.
: Operational Excellence
The cold press continuous improvement project was part of our Operational Excellence initiative where we aim to empower employees by providing automation, updated equipment, and continuous improvement of our manufacturing operations. This project and others like it create an environment where employees thrive, which underscores our drive toward a winning culture and helps us live our mission to "win together by delighting the customer."
: Winning Culture
We know that taking care of our people will result in our employees taking care of our customers, and this initiative builds on those efforts. We are continuously upgrading our efforts in all employee-related areas, driving engagement with employees and improving communication. Our Total Rewards packages are evolving in real-time. We are constantly looking for ways to enhance our employees' experience at Robert Weed. Our Well-Being Strategy is all about promoting our employee's well-being.
: RWC Success Academy
Aligning with our goal of establishing a Winning Culture, the RWC Success Academy provides opportunities for learning and education. Three courses of Six Sigma Green Belt training have been completed to date, with a 64% certification completion rate. Organizational and leadership courses are offered to employees in conjunction with Purdue Manufacturing Extension Partnership (MEP).
: Growth Strategy
Using the Operational Excellence, Winning Culture, and RWC Success Academy initiatives as a foundation, we intend to grow our business. As an RV supplier for 55 years, Robert Weed has created a solid reputation within the industry. We are exploring expanding into new industries, attracting new customers, as well as introducing existing customers to additional services.
Our strategic plan and the four major initiatives, plus our ongoing continuous improvement efforts, are all key components that drive our journey. This journey has many employee benefits, which can be summed up by Hank Robinson, a 14-year employee who operates the cold press machine and was instrumental in the cold press 5S project. "Operating the machine now that it's clean and has repaired and replaced parts has been great. Things running as they should with less downtime to stop and have to fix something is long overdue. I feel a sense of pride in my work again."
Whether at an organization-wide level or as individual machine projects, we apply the same continuous improvement method to our journey in keeping Robert Weed and our customers one step ahead.
---