Q1 2021 : Wood Supply Chain Market Intelligence Report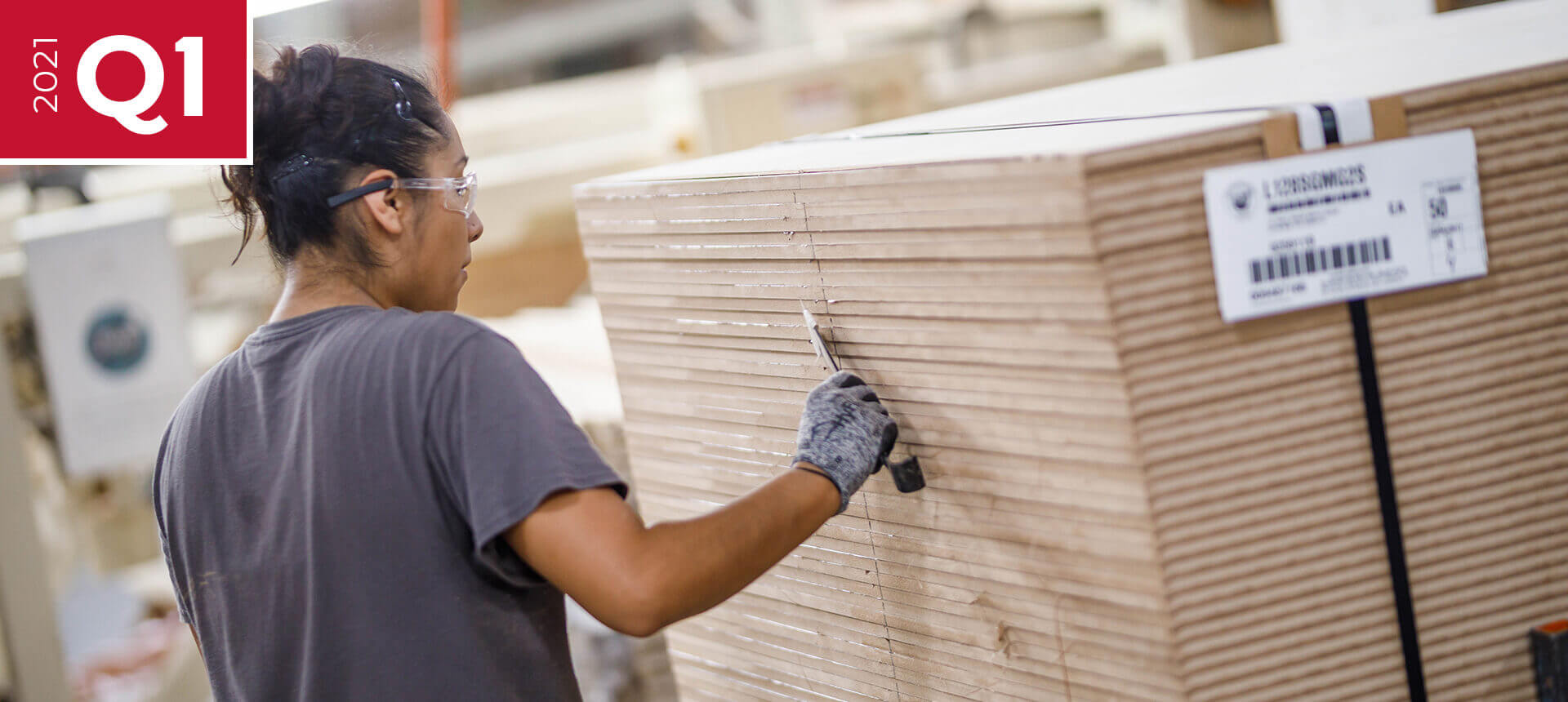 Supply and Shipping :
The price of lumber per thousand board feet is at $1,044, according to Random Lengths. That's an all-time high, and up 188% since the onset of the pandemic. The National Association of Home Builders calculates that current lumber prices are adding at least $24,000 to the price tag of a typical new single-family home.
Recent events, namely the Texas freeze in early March, have combined with ongoing supply chain disruptions to impede U.S. petrochemical production. Spot prices for ethylene and propylene, two essential ingredients for creating plastics, have increased by 162% and 60% respectively, versus January 2019.RV Distribution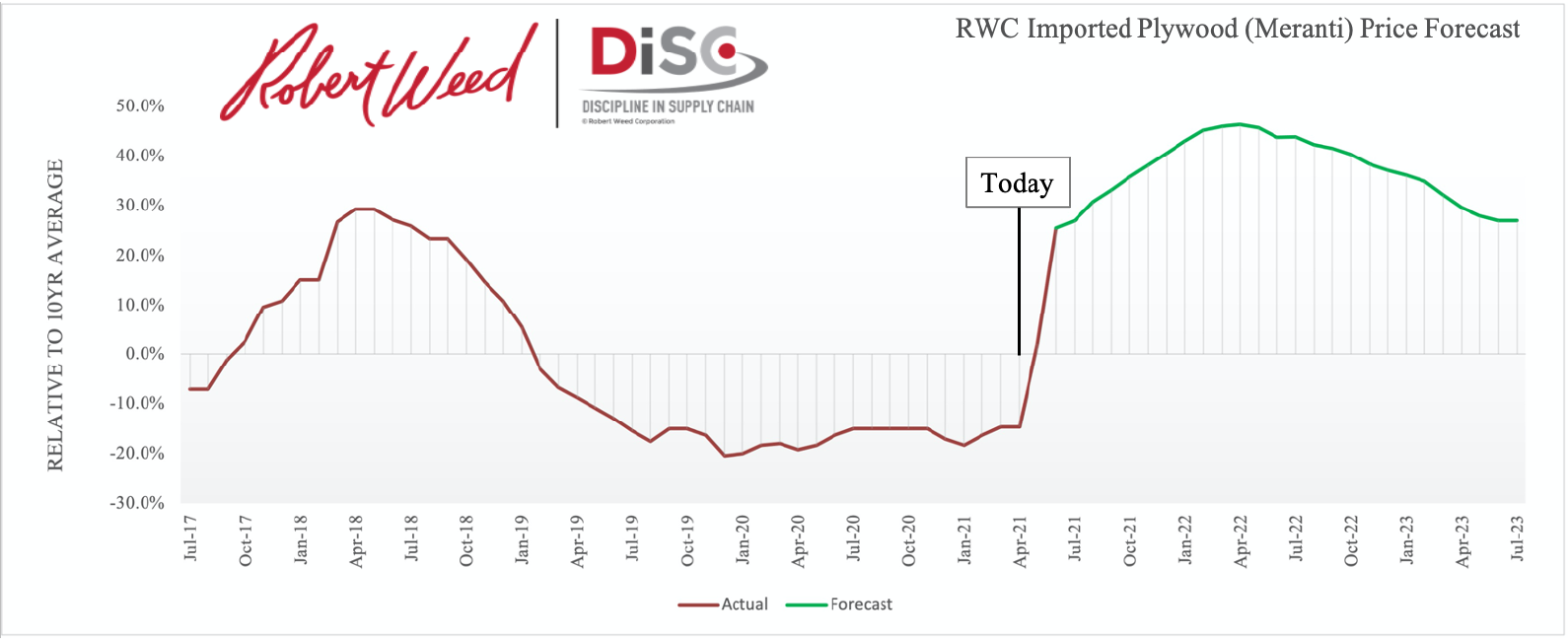 Fallout from the multi-day blockage of the Suez Canal that occurred in late March is only beginning to hit. This situation has the potential to extend the supply squeeze on shipping containers, which could further exacerbate freight rates (see chart below). The UN Conference on Trade and Development is projecting that global ocean freight will expand by 4.8% in 2021 after shrinking 4.1% in 2020.
RV Distribution
Total RV shipments in November 2020 reached 42,513 units, an increase of 43.4% YoY according The latest projections from ITR Economics show 2021 RV shipments likely totaling at 533,356 units. That total would represent a 23.9% increase over the 2020 year-end total. Monthly shipment numbers appear to align with this trend. In January 2021 RV shipments totaled 45,930 units, an increase of 39.2% YoY. Total RV shipments for February 2021 were 48,286 units, an increase of 30.1% YoY.
According to a study conducted by Go RVing, RV ownership is at a record high with 11.2 million households owning an RV in 2021 – up 62% over 6.9 million households in 2001 and 26% higher than 8.9 million RV-owning households in 2011. The results prove that RVing continues to attract a younger audience, with 51% of RV owners now under the age of 55. In fact, 22% of RV owners are now between 18-34 years old.
Economic Environment
Real GDP growth is tracking 9% annualized in the first quarter, up from just over 4% in the last quarter of 2020, led by robust retail spending and business investment. If this trend is realized, real GDP in the first quarter could surpass the pre-pandemic peak set in the fourth quarter of 2019.
The job market is picking up pace. Nonfarm payroll employment saw the addition of 916,000 jobs in March 2021. In the same month, the unemployment rate dropped to 6.0%. This marks a considerable change from the year-to-date high of 14.7% experienced in April 2020.
The availability of drivers for on-the-road shipping is continuing to decline. According to ACT Research's For-Hire Trucking Index, the Driver Availability Index tightened to a new low in February 2021, to 23.6 from 25.0 in January. This trend of all-time historical lows has been apparent for the last three months. As seasonal shipping volume begins to increase moving into spring, for-hire trucking may not be able to keep pace.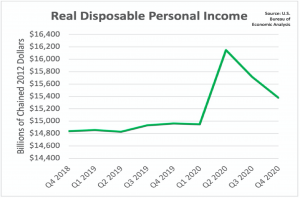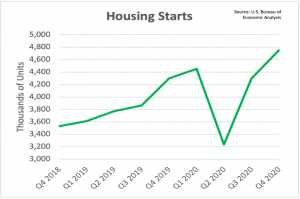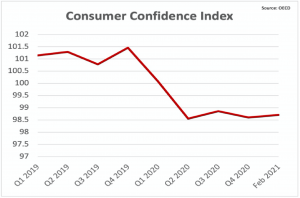 Industry News
The RVs Move America Economic Impact Study revealed that in 2020, the RV industry had an overall economic impact to the U.S. economy of $114 billion. According to the study, the industry supported nearly 600,000 jobs, contributed more than $32 billion in wages, and paid more than $12 billion in federal, state, and local taxes.
In a survey of 2,000 campgrounds and RV parks performed by CampgroundViews.com nearly two-thirds of respondents stated that their advanced bookings are up 50% over average for the 2021 camping season. 24% of respondents are seeing advanced bookings up over 80% for the same period.
Towable trailers were the most-rented vehicle on Outdoorsy in 2020, accounting for 46% of bookings. Class C RVs, which are a smaller drivable vehicle that is geared toward families, were the next popular, accounting for 24% of bookings.

The entire supply chain continues to be impacted by past and recent events, affecting raw materials to transportation and exposing the need for greater transparency. However, an opportunity to stabilize your long-term plywood supply is now available from Robert Weed. We can work with your company to control the pricing, volume, and quality you receive for the next 24 months.