November 2020 : Wood Supply Chain Market Intelligence Report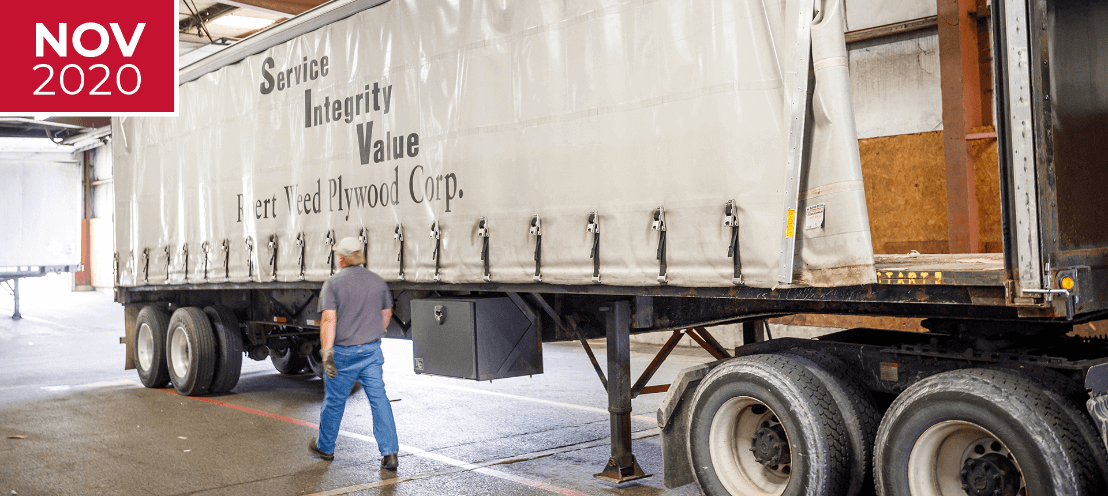 Supply and Shipping
Plywood
Demand for lumber in September was up in the ballpark of 10% to 20% from pre-COVID levels. Contributing to this rise is an increase in housing starts and smaller home improvement projects nationwide. At the retail level, plywood supply is running low as business owners board up their windows in anticipation of unrest following the current election.
After sharp increases from May through September, plywood prices are showing signs of stagnation across the board. Some domestic types have begun to drop in price, possibly as a response to increasing supply from reopened businesses.
Shipping
Shipping containers are in high demand, choking supply chains and causing rates to soar. Estimates of US import activity forecast a 1.1% YoY decline in container movement through October. With the holiday season approaching, CPG manufacturers will be vying for priority access to first available units.
The outlook of surface-level shipping activity is suffering. Shippers' views of October demand dropped 6% from September, and their view of capacity has continued to decline since June. These values are the result of employment that is slow to recover, as well as surging demand for surface transportation.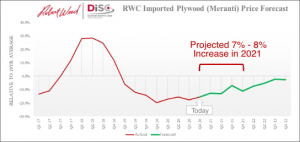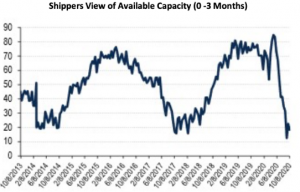 RV Distribution
The RVIA's monthly survey of manufacturers found that total RV shipments ended August with 39,489 units (up 17.3% YoY). Towables were up 20.8% YoY, and motorhomes finished down -7.1% YoY. The same trend continued into September, with month-end RV shipments totaling 41,509 units (up 31.2% YoY). Towables increased of 35.3% YoY, while motorhomes finished the month down -1.0% YoY.
RV shipments through the end of 2020 are expected to range between 414,200 and 434,500 units with the most likely total being 424,400 units, according to the Fall 2020 RV RoadSigns prepared by ITR Economics for the RVIA. That total would represent a 4.5% gain over the 406,070 units shipped in 2019, overcoming a nearly two-month RV industry shutdown due to the COVID-19 pandemic.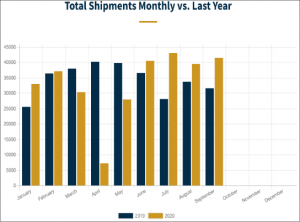 Economic Environment
U.S. consumer spending slowed in August to just 1% growth, the weakest rise since spending fell 12.7% in April when large parts of the economy were shut down. Personal income dropped 2.7% in August, following a gain of 0.5% in the previous month. This decrease reflected the expiration of the $600 expanded unemployment benefit on July 31.
Consumer confidence rose in September to 101.8 this month from 86.3 in August according to the Conference Board, the highest level since the coronavirus pandemic began. It was also the biggest one-month increase in 17 years. This springback in consumer confidence after two months of downturn is welcome news and suggests a U.S. recovery is still on track even if growth has tapered off since the late spring.
Mobility across the country has continued to drop as several states see rises in COVID-19 cases. September 2020 saw a decline of over 80% in trips from the previous year, according to the Bureau of Transportation Statistics.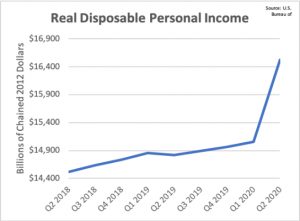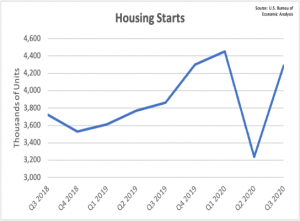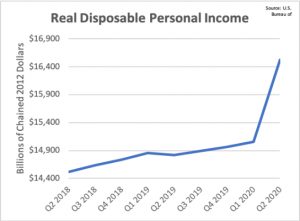 Industry News
Initial RV shipment estimates for 2021 have a range of 494,400 to 519,900 units with a most likely outcome of 507,200 units, a 19.5% increase over 2020. Towable RV shipments are anticipated to reach 452,500 units in 2021, and motorhome shipments are projected at 54,700 units.
The rental site RVShare raised $100 million in a funding round led by private equity firm KKR in late October. This is a sign that C2C platforms are anticipating sustained, or even increasing, demand for short-term rentals.
In September, the California Air Resources Board (CARB) approved the Low Nitrogen Oxide Omnibus Regulation in order to attain clean air goals. The regulation will take effect beginning in 2024.  CARB estimates that by 2031, the regulation will result in the lifetime cost of ownership increasing $8,841 for heavy-duty diesel engines and $5,814 for medium-duty diesel engines.
The events of this year have impacted your entire supply chain from raw materials to transportation, exposing the need for greater transparency. However, an opportunity to stabilize your long-term plywood supply is now available from Robert Weed. We can work with your company to control the pricing, volume, and quality you receive for the next 24 months.